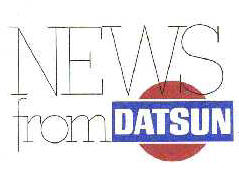 NISSAN U.S.A. CARSON, CALIFORNIA 90248
For Release:
Wednesday, Feb. 6, 10 a.m. EST



A NEW "Z" CAR IS BORN
-- LIMITED EDITION ZX10 UNVEILED
NEW YORK, N.Y. -- A major event in American automobile history was recreated here today in
the Grand Ballroom of the Pierre Hotel. The most popular and largest selling sports car ever in this
country -- the Datsun Z -- was reintroduced. This time, however, Nissan U.S.A. unveiled a special
edition version, the 10th-anniversary Datsun 280-ZX10.
Also center stage today was the original Datsun 240-Z that was introduced to the U.S. in the
same room 10 years ago. That car never reached the showroom. It went to the racetrack where it still
cavorts successfully.
"At the time, we knew we had something," recalled Robert 0. Link, senior vice president of
Nissan U.S.A., who participated in the Pierre preview 10 years ago as Datsun's general sales manager.
"But it would have--been presumptuous of us to predict such an awesome impact on the American car
scene."
The 240-Z was, in effect, an American car built overseas, according to Link. "More than 90
percent of them were...and are, in fact... earmarked; for this country. It was 'made for America."'
-more-



Contact: John C. McDonnell, National Public Relations Manager a 213/532-3111 Bob Thomas & Associates, Inc. 0 213/376-6978
PAGE -2-
Robert B. Kent, vice president of marketing services for Nissan U.S.A., said the new limited
edition ZX10, which arrives 10 years and four days after the first Z was sold, will be "hard to get." Only
3,000 will be manufactured for sale in the continental U.S.A., he explained. In the past 10 years, the
demand for Z cars has virtually always exceeded the supply, he pointed out.
Each ZX10 will be unique. An engraved plaque commemorating the anniversary will identify
the individual car by number in the series of 3,000 units. They will become available at Datsun's more
than 1,000 U.S. dealers in early spring, Kent said.
Visually the 1980@-model ZX10 will be easily distinguished from other 1980 ZXs by its unique
appearance. Datsun's 10th-anniversary z was a joint U.S. and Nissan Ltd. Design Department effort.
It is based on the 1980 two-seat 280-ZX equipped with the Grand Luxury package and a 5-
speed or automatic transmission, plus the following special ZX10 features:
• Two-tone Gold and Black paint design with gold badges and gold insert alloy wheels.
• T-Bar roof with new detachable sunscreen panels for complete privacy.
• Commemorative wreath decals on the front fenders and tailgate, to provide special edition
factory identification.
• Headlamp washers, a first for Datsun.
• Goodyear "Wingfoot" tires.
• High-back tan leather seats.
• Concert-hall effect audio stereo system.
• Cassette tape system.
• Automatic temperature control.
• Uniquely-styled shift knob.
• Blackout exterior trim design.
Kent said the ZX10 is expected to appeal to a slightly older, more affluent segment of the
personal-sports car market.
-more-

PAGE -3-
"We've seen the Z evolve from its pure sports-car image of the early 708 to a more luxurious GT
(Grand Touring) version," Kent explained.
"Of course, it's still an enthusiasts car...sporty and unique in appearance and a pleasure to drive
because of its performance characteristics."
Kent identified the 1980 Datsun ZX's major competition as the Porsche 924, Mazda RX-7 and
Chevrolet Corvette, all of which have produced special editions in the past year.
In recalling the $3,500 price tag on the first 240-Z, compared to today's base ZX suggested retail
price of $9,899, Kent pointed out that the Z has remained "an exceedingly strong value relative to its
competition."
Even today, 240-Z models are valued on the market at more than the original new-car price.
The-Z's performance image was established early.

The 1970 Datsun 240-Z unveiled to the press in New York went directly to Bob Sharp and the
racetrack. Sharp, a Connecticut Datsun dealer and national road racing champion, has driven or owned
five Sports Car Club of America championship Z cars. Last year, his national championship driver was
actor Paul Newman.

That first Datsun Z is still being raced by driver Jim Fitzgerald of Atlanta, Ga.
-A Datsun ZX driven by Don Devendorf of El Segundo, Calif., dominated the International Motor
Sports Association GTU professional series last year.
-more-



PAGE -4-
The ZX10 marks what is considered the sixth major milestone in the history of the Z.
Upon introduction, the car was powered by a 2400cc six-cylinder engine. For 1974, the 260-Z
arrived as displacement was increased to 2600cc. In May 1974, the 2+2 version was introduced. For the
1976 model year, an additional 200cc and fuel injection came with the 280-Z. In 1979, the first complete
design change occurred as the car grew into more of a GT selection, offering special convenience features
such as power steering and electric windows. In all, more than 500,000 Z cars have been sold in the U.S.,
reaching a record total of 71,983 last year.

####